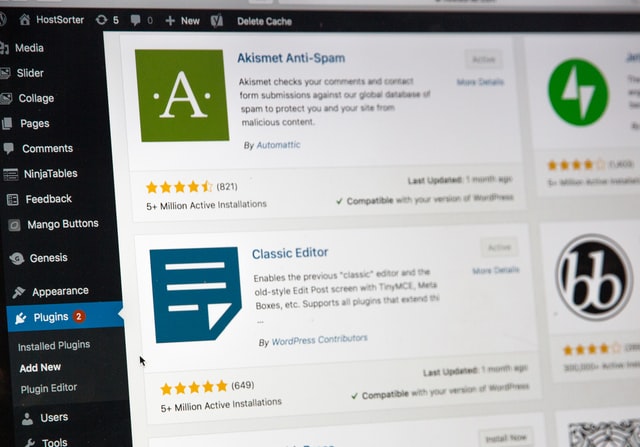 10 Benefits of using WordPress
Are you thinking of launching a website but aren't sure where to start? Are you confused about which platform to use to build your blog or affiliate site? Well of course, there are many options that will do a great job for you I'm sure.
However, in my completely biased opinion (along with years of experience of web development), I would suggest you use WordPress.
WordPress now powers 40.0% of websites, with a 40.0% share in the CMS market. Besides being the most widely-used CMS, WordPress is also the fastest growing. Of the top 10 million websites online, more than 500 sites built each day are powered by WordPress (versus 60-80/day that are built on managed platforms such as Shopify or Squarespace).

Kinsta.com
WordPress is the best website builder on the market currently. It gives you already pre built templates upon which to create a site. The intuitive and user-friendly interface also makes it a favourite tool for web developers and site owners alike.
In this guide, we look at ten reasons why you should build a website using WordPress.
Let's dive right in!
1. Free and open source
WordPress.org is under General Public License (GPL), which makes it accessible for anyone to use. You only pay for web hosting but using the platform is absolutely free.
It also means it is open to the public and can be modified and shared. As you can already tell, the platform is developed with users in mind.
2. Easy to use and good for clients
It's discouraging to use a site that is difficult to navigate. WordPress developers wanted to create a platform that is not only easy to use but also good for the users. Here are some of the user friendly features that platform provides.
TinyMCE offers settings to add buttons to your editor. This saves you time and helps you learn how to use WordPress much faster.
A rich-Text widget that gives you a chance to add images to your website.
Navigation list plugin, which gives you and your audience complete control to navigate through the interface.
Page management plugin that performs the page management task with a drag and drop interface.
Admin trim interface plugin which provides multiple admin features.
Adminimize plugin: this helps you hide unnecessary items and information.
3. SEO friendly and built with good code.
Currently it's hard for pages to rank without proper optimization. Search Engine Optimization is not only about keywords but also the website itself. Here are some of the features that make WordPress the best for SEO.
There are many free plugins such as Yoast that are well coded and designed to help you make your content rank in the SERPS.
Clear and precise permalink structure.
If you choose reputable themes and plugins then the code is well written and stable. You can read more about the benefits of SEO here.
4. Big community
It is termed as a big community because it is open-source and the users help develop the platform. Its community holds forums and seminars to help others and come up with new ideas. There are also many meet-ups and even WordCamp from different parts of the globe.
5. It's easy to scale and very powerful
WordPress is flexible, so therefore you can break any obstacle and give your site the strength to attract traffic. Its coding is clean and clear, and this makes its load faster and avoids unnecessary bloat if you choose your setup wisely. With proper hardware like CPU and RAM (hosting/server ralted), which can handle small spikes, it scales high in traffic and loading capacity. It's a powerful tool to give you results in real-time.
6. Using page builders means fast building times and flexibility, hence cheaper than complete custom coding
WordPress has page builder's plugins which are Drag and drop builders, my favourite being Beaver Builder. This makes it easier for you to develop your website faster and saves you time compared to custom coding.
Coding can be hard and take time, especially when you are new to it. Page builders can help you save money by hiring a Web Developer for less time than if they were building a complete custom solution from scratch.
7. It's a readymade CMS – good for blogging
The platform has an administrative area that provides "what you see is what you get" WYSIWYG Editor. This gives you virtual access to add and edit content without learning the coding skill.
The fairly new gutenberg editor is a game changer and with full-site editing due to be released in Summer 2021, the future of blogging has never looked so good.
8. Easy to update and manage
Managing your website can be a bit tedious. WordPress website tool gives you an easy way to deal with this. It comes with plugins that will help you manage your site easily and there are services with hosting solutions too that will help you achieve this.
Managed hosting whereby the host gives an extensive range of customized services specifically for WordPress. These hosting services help your site to load faster. The host maintains the server configuration and also installation. For example, I use Eco Web Hosting.
Turn off comments feature that allows you to turn off comments to avoid them from popping up when you're working on other things within the website.
Automatic backup. It saves you the disaster of losing data if anything untoward happened to your valuable website.
9. It's secure
Most internet users and bloggers worry about the security of their online properties. With WordPress, you get the following security features.
Administrators and site owners
The website allows users to create multiple accounts for the admins and the site owners. It's also possible to give limited or full access to different users depending on their roles.
Themes keep updating to keep you up with the latest features. Also, third-party plugins are updated, and those not in use get removed.
10. Can handle multiple media types
WordPress handles multiple media files such as images, video, audio, PDFs, and Word documents, which are essential for bloggers and web developers. You can retrieve these files any time you need to use them. You can access these media files from the library through the media bar in the admin screen.
Conclusion
Among all other website development tools available, WordPress is the most popular and powerful website builder. This is due to its dynamic features, which are in-built and user friendly. You don't have to be an expert in coding to use WordPress.
I hope you found this useful and if you would like to contact me to discuss your next project, please get in touch.